Attractions
Discover magic of UNESCO town of Český Krumlov
Winding romantic streets and beautiful castle overlooking the meandering Vltava River, a unique complex of old town homes, pubs, cafes, and medieval taverns with a diverse mix of tourists from all over the world. This is Český Krumlov, a town with a unique atmosphere surrounded by a beautiful pristine countryside.

This extraordinary architectural gem, located 180 km south of Prague, was deserved a UNESCO World Heritage Site in 1992.

The urban development, built mostly in the 16th century above the Vltava River, has an extensive complex of castle buildings that is the second largest in the Czech Republic only behind Prague Castle. This is the historical seat of the Rosemberg family and includes a number of places buildings with its famous ball room, a unique Baroque theater (recently opened to the public), a castle garden with its rococo Neptune Fountain and the Bellarie, a summer house with a revolving auditorium (where summer theater performances a reheld).

To give you a better overall view of what our town and region has to offer we have prepared a brief overview for you below. If you need any additional information about places to visit, or ideas about things to do in Český Krumlov, please contact Hotel Růže's Concierge.
Hotel Ruze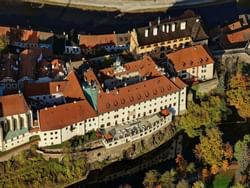 Unparalleled luxury and incredible attention to detail are what you'll experience from the moment you arrive at the hotel. All 71 rooms are designed for your comfort. Archways, ceiling, unique frescoes and painting are authentic parts of the hotel. Enjoy dining with recipes from local and international culinary traditions at our restaurant.
Chapel on the Mountain of the Cross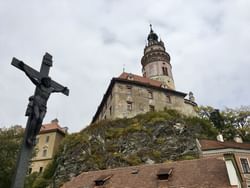 Take a walk to the pilgrimage place located on a top of a mountain where this eight-nave chapel of Our Lady Dolorous and the Holy Cross was built in 1710.
Little Castle "Ptačí Hrádek"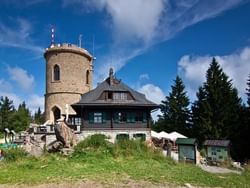 Come to see an unfinished military monument called "Little Castle Pračí Hrádek" built in commemoration of the victory of the united army of Russia, Austria and Prussia over Napoleon Bonaparte in the battle of Leipzig in 1813.
St. Martin Chapel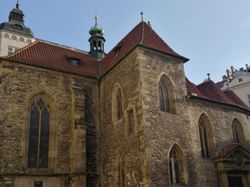 Another place to visit represents today's seat of the Czech Hussitic Church Chorus – St. Martin Chapel which was built as a wooden cemetery chapel in 1585.
Synagogue Český Krumlov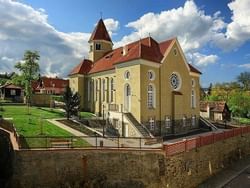 Visit an outstanding building of the Český Krumlov Synagogue built in Nouveau-Romanesque style in 1909 by the local Jewish community.
St. Jobst Church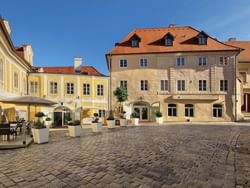 Come to admire the preserved Gothic constructions and details of the former church of St. Jobst established before 1334 by Peter I. von Rosenberg as a part of the Rosenberg's hospital. Today the building is used as a Marionette Museum, shops and restaurants.
Minorite Monastery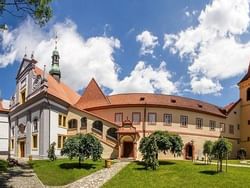 One of Český Krumlov's oldest surviving buildings – Minorite Monastery dates back in the mid-14th century. The construction was finished at the end of the Baroque era. Come to enjoy this unique historical site during one of its memorable religious concerts or recitals.
St. Vitus Church in Český Krumlov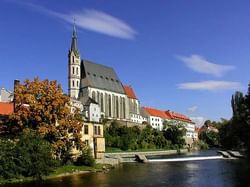 Discover the second most impressive architectural landmark of the town – The Roman Catholic St. Vitus Church which was built on the promontory created by the river Vltava as well as the Česky Krumlov Castle. Its neo-Gothic octagonal tower became one of the dominant in the city.
Czech Ceramic Design Agency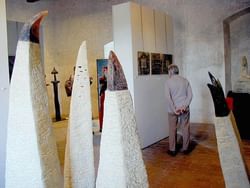 The only existing Art Agency in the Czech Republic committed to a permanent presentation of ceramic artworks by professional Czech and Moravian artists opens to public its collections in the New Gallery, the International Ceramic Studio, the Czech Culture Gallery and the International Gallery of fine art.
Egon Schiele Art Centrum
Frequently visited Egon Schiele Art Centrum presents not only an exhibition documenting the work and life of Egon Schiele but also various rotating exhibits of classical 20th century and contemporary art. For young artists there is a big art studio.
Wax Museum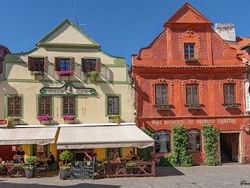 Through this museum visitors can step into history, breathe the atmosphere of an alchemist's kitchen and an old tavern, visit the courts of the Bohemian Kings and Emperors such as Charles IV, Franz Josef or Rudolf II and admire all the wax figurines.
Museum of Torture instruments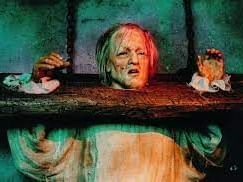 Visitors can enjoy a mystical atmosphere in an authentic environment of Museum of Torture installed in the cellars below the Český Krumlov town Hall. The museum offers a unique exposition of criminal punishment and instruments of torture including wax figures, sound and special audio-visual effects.
Museum Fotoatelier Seidel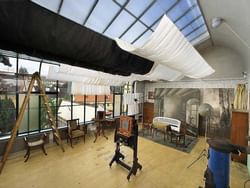 All fans of photography can admire in the Josef and Frantisek Seidels' studio the outstanding exposition of unique period images, post-cards and glass-plate negatives, and the well-preserved, functioning cameras, enlargers and darkroom equipment.
Marionette Museum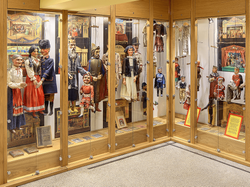 An exhibition of old Czech marionettes and complete puppet theatres including stage designs and curtains from the half of the19th century is open for visitors in Marionette
Regional museum in Český Krumlov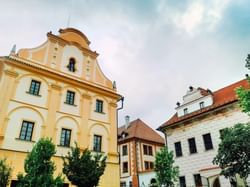 The Regional museum located in a large Baroque building of former Jesuit seminary administers over 22 000 registered items of the collection fund, another 34 000 objects and over 5000 books in the library.
Holašovice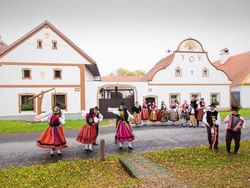 Visit an exceptionally complete and well-preserved example of a traditional central European village famous for its rustic baroque style. With a large number of outstanding 18th- and 19th-century vernacular buildings the Holašovice village is inscribed in the UNESCO World Cultural Heritage list.
Lipno Lake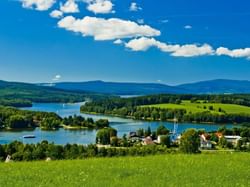 The Lipno Lake and its surroundings offer a wide variety of activities for all. Visitors can enjoy many summer sport activities like cycling, windsurfing, tennis, hiking, fishing as well as winter sports including skiing or ice skating.
State Chateau Hluboká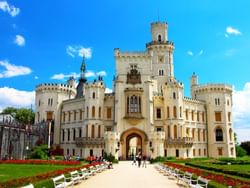 Explore the beauty of fairy-tale residence in Hluboká nad Vltavou. The neo-gothic Chateau Hluboká surrounded by a large English park invites to visit remarkable representative rooms and halls, admire many objects of art collections and learn more about the ancient origin of Schwarzenberg family.
Lipno Treetop Walkway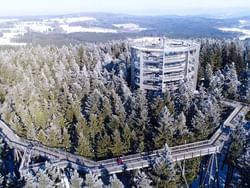 Have fun with your family and friends at a unique attraction, 675m long wooden walkway, offering an incredible view of the Šumava mountains and the Lipno lake, educative and interactive stops, great adrenaline sports entertainment and the longest dry toboggan in the Czech Republic.